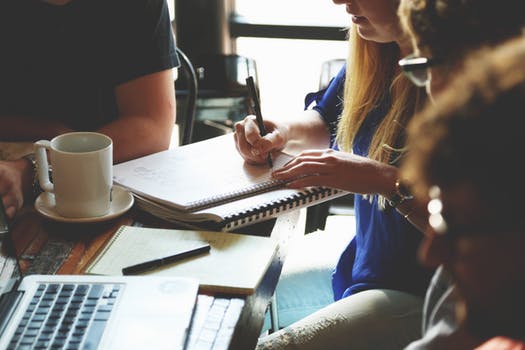 In March 2015 our small Citizens Advice office moved into Moorlands House in Leek, a local authority building which houses a range of services including adult and child safeguarding, council tax recovery, benefits, housing options and the Families  Intervention Project (FIP).
Over the last 3 years, the building move has given rise to a new collaborative approach which benefits families and workers alike.  Citizens Advice and the FIP team - who are just down the hall from us – have developed a strategic way of working; sharing the same values and principles, with the welfare of our clients at the heart of that partnership.
We're aware that many  of our colleagues in other local Citizens Advice have had difficulty gaining a similar partnership with their own local authority in terms of supporting troubled families. Our hope is that this will change because our experience has shown that in Citizens Advice we are able to use our strengths to improve the lives of families. The FIP Team tend to have a traditionally 'social services' background which understandably means they do not have a wealth of experience in the core enquiry areas of benefits, debt, housing, employment and family law that we do. Many people in the FIP caseload are adversely impacted by these issues which gives Citizens Advice its own unique niche within the project, with the expertise which can free up time and resources. FIP is an 'outcome driven' project so Citizens Advice can provide an efficient way to get the real results with families that are needed.
We receive referrals directly from the FIP team often on complex legal and financial issues and we work with the FIP to help to make progress with their families. This is a different way of working for us as usually clients come to us and we assess their needs from the beginning. Our partnership with the FIP Team means that they will already have done some of this work with the families by the time they get to us.
Many of the people we work with experience financial difficulty and struggle with unmanageable debt and benefit problems. For instance in one case we helped a recovering substance misuser address problem debt  taking away some of the stress that could impede an effective recovery. We later helped the client obtain supervised, and later unsupervised, contact with their youngest child.
In addition to benefit issues we are also well placed to help with housing problems; including rent and mortgage arrears and threats of homelessness. These issues often come together and put a strain on family security and health and well-being. By dealing with the initial problems of keeping the family with a roof over their heads, we put them in a better position to look for, secure and maintain work.
I believe that Citizens Advice is a natural partner for the Troubled Families Programme nationally because we offer expertise across the range of issues that form the basis of so many families' problems. We routinely develop good working relationships with partners as we know that no one organisation can work alone to support their local community. The relationship with local authority key workers is a two-way street, with both parties helping each other to deliver benefits for the vulnerable children and families at the heart of our work.
Please leave a comment or contact me for more information.
Lindon Parr
Service Manager, Leek Citizens Advice Bureau
Email: bureau@leekcab.cabnet.org.uk