Maya is mum to her two children, Mia, 9 and Avery, 8. They have been living as a single parent family since Maya left a controlling relationship.
What happened?
Maya and her two children, Mia 9 and Avery 8 had moved home after leaving Maya's controlling partner, who then cut off all contact with his children. Teachers were worried about Mia, who had become aggressive towards her peers in class, and Avery, who was often tearful at school. Maya reported that her ex used to be abusive towards her in front of the children, and that since leaving, Mia and Avery had become more difficult to cope with.
What help did they receive? 
The family were referred by their school to the local authority's Early Help team based at the nearby Children's Centre, where Alex, a family support worker, carried out an assessment of their needs. Alex found that the emotional effects of having witnessed abuse were emerging in the children's behaviour. This was affecting their schooling, development, and life chances and Maya needed help to regain confidence in her parenting.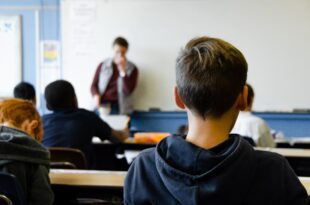 Alex arranged for a specialist domestic abuse worker to visit, who worked with the family on the effects of violence and discussed with Maya that children may have started to 'act out' negative feelings because it had become safe to do so. Maya agreed to meet with a local Freedom Programme domestic abuse support group, for regular sessions on feelings and on how to respond to her children's needs. Strategies for stronger behavioural boundaries and predictable routines were put in place at home by Maya, with support from Martha.
Alex worked with the local Educational Psychology service to source Avery with an Emotional Literacy Support Teaching Assistant at school. Avery addressed his emotions by making more sense of his life story and learning positive self-esteem techniques. Mia was helped by the local Behaviour Support team, part of the Psychology, Wellbeing and School Support Service. The team helped Mia deal with her angry feelings so that she stopped hitting out and was no longer at risk of being excluded.
What changed?
The support offered to the children at school has worked well. Mia and Avery now share their feelings instead of showing them through challenging behaviours. Teachers have reported no serious concerns about the children for six months. Maya and the children also report that they are much more settled and calmer in their new home.
Maya also reported feeling good about the support from her group, and that she now feels confident in listening to the children and responding to worries about their father. Maya has gone from being quiet and shy, to running a volunteer-led group at the Children's Centre. Maya now works to support other families within her local community, signposting them to agencies and encouraging them to seek advice.
If you would like to learn more about your local area's work to deliver early help through Supporting Families, please contact families.team@communities.gov.uk