More than 600 listeners from the local government, children and families sectors joined MHCLG's webinar to mark the next phase of Supporting Families (formerly the Troubled Families Programme).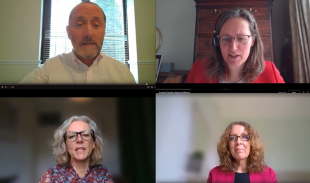 Eddie Hughes MP, Minister for Rough Sleeping and Housing, with responsibility for Supporting Families, thanked professionals in local areas delivering the national programme on Friday 26 March, and set out the future vision for the programme as it delivers into 2021-22 and beyond. 
Attendees heard addresses of thanks and reflections on the programme's place in supporting children and their families, from highly respected leaders in the sector; Isabelle Trowler, Chief Social Worker for Children and Families and Charlotte Ramsden, Vice President of the Association of Directors of Children's Services. 
Catherine Frances, Director General for Local Government and Public Services chaired the discussion and the webinar wrapped up with a Q&A session led by Kirby Swales, Deputy Director for Supporting Families and colleagues from the national team at MHCLG. 
You can listen to the webinar to hear the addresses, thanks and much more on the programme's vision and ambition for 2021-22 and beyond here 
The next phase of support for some of the most vulnerable families in society was launched by Housing Secretary Robert Jenrick on Friday 26 March 2021, backed by £165 million funding. 
An additional £7.9 million Local Data Accelerator fund also launched to improve how councils use data to support families, including by providing key workers with the information that they need. 
Delivering Supporting Families includes work to support people to leave abusive relationships, get the right joined-up support for those with mental health issues and help people to find work – all part of the government's comprehensive programme of work to support and unite communities. 
Through the programme, which first began in 2012, families are assigned a dedicated keyworker, who works with every member of the family and brings local services together to resolve issues at an early stage, before they develop into more significant problems. 
Since 2015, over 400,000 vulnerable families have received support to help them build brighter futures, and over 870,000 families have benefited from the programme's 'whole family' approach to tackling problems. 
Please find links to the full announcement, including the data fund, Annual Report 2021, policy and programme guidance on the Supporting Families gov.uk page here